Rural Health Network works at the local and regional level to provide assistance with health related needs assessments, planning and project implementation.
Tioga Tells is a year-long quality of life assessment which brings together residents, business partners, service providers, and county officials to identify the strengths and challenges impacting quality of life for Tioga County residents. Tioga Tells is supported in partnership by Rural Health Network of South Central New York, Tioga Opportunities, Inc., and the Tioga County Public Health Department.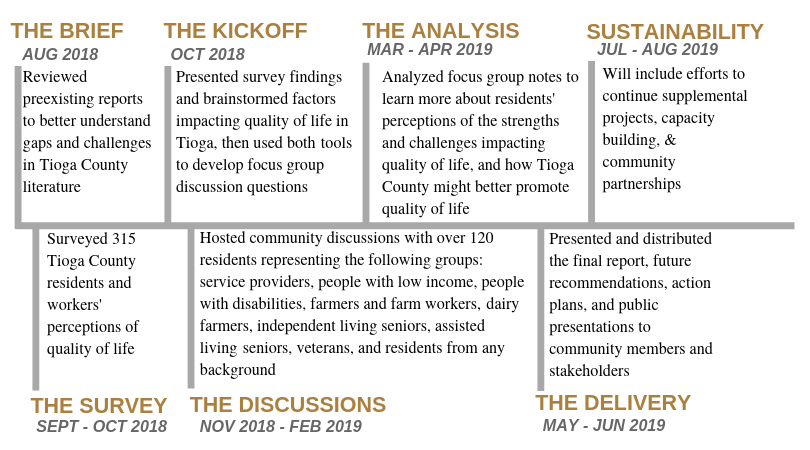 Previous Projects:



Rural Broome Counts was a needs-assets assessment project that took a deeper look at the 11 rural townships in Broome County during 2014-2015. To be considered rural, townships have 200 people per square mile or less. Rural Broome Counts investigated the top three assets identified at the October 2014 Kick-Off: community spirit, rural schools, and natural resources, and the top three challenges: poverty, rural health services, and transportation. The project was supported by the United Way of Broome County, AmeriCorps VISTA, Rural Health Service Corps, and the NYS Office of Rural Health. Data for RBC was acquired through a wide range of sources. Rural residents and community leaders living and working in rural Broome County contributed to the project through interviews and surveys. Service and subject experts representing healthcare, education, transportation, human services, agriculture, and government also contributed information and participated in work groups and served on the Rural Broome Counts Advisory Committee. In 2016, additional assessments led to supplements on Housing and Rural Household Budgets.