Support for the Rural Health Network is an investment in our Mission to improve the health and well-being of rural people and communities. Contributions further our work in healthcare access, chronic disease management, and programs addressing social determinants of health, including transportation barriers and food security.
If you would like to make a secure online donation, select the Donate button on the top right hand corner of the screen to be taken to our donation page.
If you prefer to send a check, please mail your check to 455 Court Street, Binghamton, NY 13904.
Support our virtual fundraiser, On the Hunt for Good Health, by donating to our cause and joining in the challenge. Visit our fundraising site by clicking here.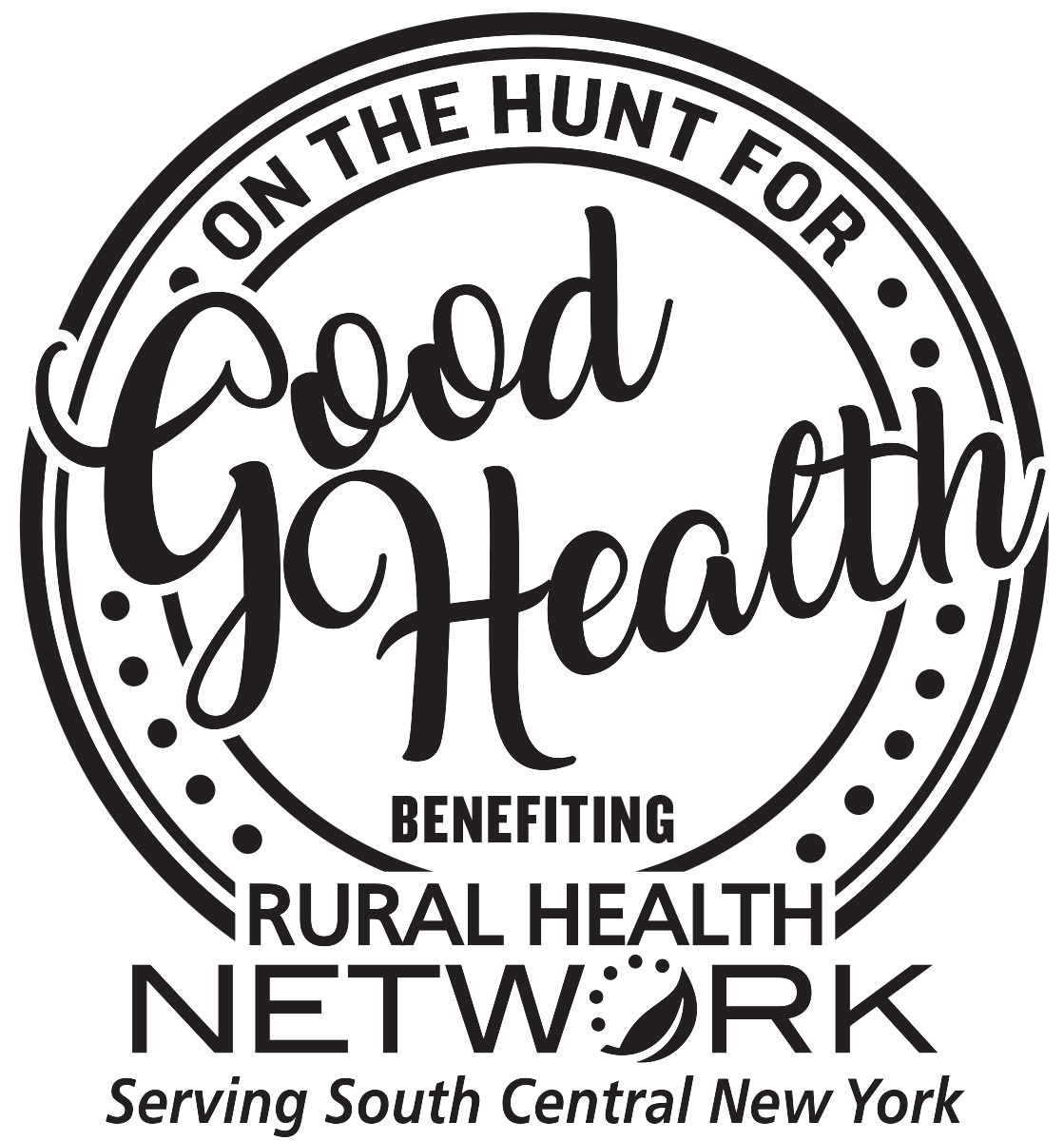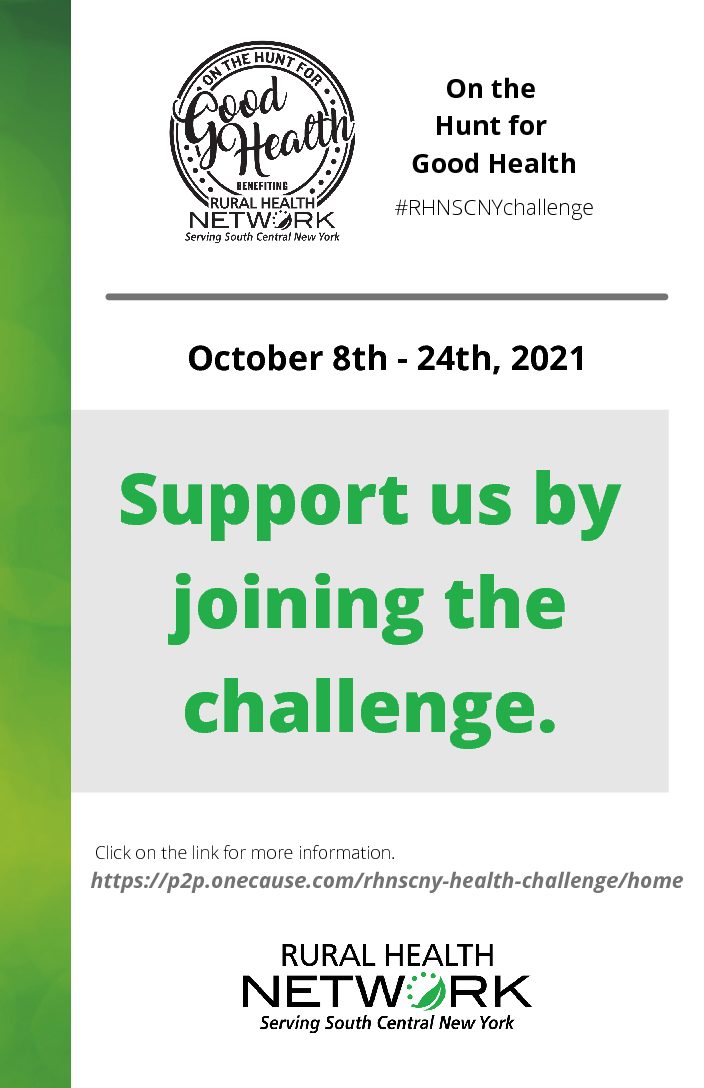 Thank you for your interest in employment opportunities with Rural Health Network of South Central New York.  For AmeriCorps and VISTA national service opportunities, please visit Rural Health Service Corps website.
Note: All positions require COVID-19 vaccination or a valid exemption for reasonable accommodation.
Director, Getthere Mobility Management Programs. Rural Health Network of SCNY, Inc. is seeking an entrepreneurial and innovative leader to become the next full-time director of our Getthere Mobility Management Program. Getthere improves the health and wellbeing of our region by improving access to affordable and efficient transportation options. Safe, reliable transportation to health care, food, and employment has the power to transform the lives of individuals, families, and the community. Most importantly, Getthere educates and empowers those we serve by encouraging independence that supports their long-term transportation needs.
The ideal candidate should understand the importance of developing strong relationships with community partners, be highly organized, attentive to details and have excellent communication skills.
A bachelor's degree in transportation, business, public administration, geography, planning, human services or another relevant academic area. Demonstrated excellence in both written and verbal communication. Demonstrated competency in leading and developing organizations, businesses and/or programs that are comparable to Getthere Mobility Management programs in scale and complexity. The Getthere Director will report to the Executive Director.
Our primary office is in Binghamton. Rural Health Network provides a pleasant working environment with comfortable work space and positive interaction among all staff.
The Director, Getthere is part of the agency management team and is expected to work collaboratively with all program directors. Given demands of our grant funding, the ideal candidate should be able to work effectively under deadlines and occasionally other stress factors.
This position is full-time, FSLA exempt with benefits. The salary range is commensurate with experience. Benefits package includes:
• 9 paid holidays, 10 paid sick days, and 10 vacation days annually
• Additional floating holiday and personal time after 6 months of employment
• Medical, Dental, and Vision
• Healthcare flex spending account (available annually, during open enrollment)
• Retirement contribution after 1 year of employment
• Employee Assistance Program (EAP) Plan
Position requires a valid NYS Driver's license and candidate must be fully vaccinated against COVID-19
Apply at: https://form.jotform.com/RHNSCNY/rural-health-network-application- by 11/15/2021 or until position is filled. For more information contact Mark Bordeau, Executive Director at mbordeau@rhnscny.org
Food as Medicine Coordinator. The Food as Medicine Coordinator will play a key role supporting the implementation, growth, and sustainability of the Fruit & Vegetable Prescription (FVRx) program and other emerging food as medicine initiatives in a multi-county region. The Coordinator will expand the capacity and impact of programs through planning, coordination, resource development, communication, monitoring and evaluation, and regional technical assistance. The Coordinator will work closely with the FaHN Director, health care providers, hospital systems, local food retailers, program participants, and partner organizations.
Rural Health Network of South Central NY's Fruit & Vegetable Prescription Program (FVRx) allows healthcare providers to prescribe fresh fruits and vegetables to patients experiencing diet-affected chronic health conditions while providing additional support for patients. The program is designed to improve healthcare outcomes, optimize medical spending, and increase patient engagement and satisfaction while also supporting local farm and food businesses. In addition to access to produce, participants receive ongoing support to encourage and sustain behavioral changes for healthy living. RHN has operated the FVRx program since 2017. For more information about the Food as Medicine Coordinator position, visit https://foodandhealthnetwork.org/employment-opportunities/.
Mobility Transportation Advocate (MTA). The Mobility and Transportation Advocate (MTA) works in a collaborative team environment to utilize mobility management strategies to improve transportation access, independence, and service coordination. MTA's staff the Getthere Call Center, which is open Monday through Friday from 7am until 7pm, and provide one-on-one transportation case management, education, and assistance to older adults, people with disabilities, and lower-income individuals. MTAs have the opportunity to make a positive impact on the community while building problem solving and critical thinking skills, gaining experience in the health and human services sector, and playing an integral role in the success of dynamic community initiative.
Minimum Qualifications:
Associate's Degree with a focus in health, human services, or a related field, or a combination of education and experience.
Commitment to helping others, particularly marginalized community members, with an interest in health and wellness, social justice, and/or rural communities.
Strong customer service skills with a human-centered, respectful approach.
Excellent verbal and written communication.
Team player that enjoys collaborating with coworkers.
Self-starter with a keen attention to detail and desire to tackle problems heads on.
Experience navigating difficult situations with sensitivity and discretion.
Knowledge of standard desktop computer programs with the ability to learn Getthere's customer relationship management and data tracking system.
Provide a Driver's License and agree to an MVR check.
Compensation and Benefits: The Rural Health Network of South Central New York offers competitive health insurance, dental, and vision plans along with vacation, sick, and personal time. A retirement package is available to staff after one year of service. The Rural Health Network and Getthere encourages and promotes professional development and teamwork through staff trainings, gatherings, and opportunities to collaborate within the organization.