Northern Broome CARES
12 Strongs Pl
Whitney Point, NY 13862
Phone Number: (607) 352-4681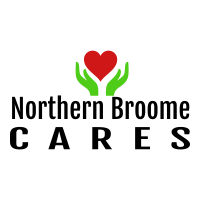 A Naturally Occurring Retirement Community, or NORC, is a residential area that was not originally built specifically for older adults, but is now home to a significant proportion of older adults (anyone age 60+). The Northern Broome NORC includes the Towns of Lisle, Barker, Nanticoke, and Triangle, where almost 23% of the population are older adults.
A NORC brings together multi-disciplinary partnerships from a mix of private and public entities to coordinate services in order to meet the unique needs of older adults. The core principle of a NORC is to enable older adults to age in place by bringing services into their communities.
About 1 in 6 New Yorkers are age 65 and over. Older adults are currently among the fastest growing age groups: in the past decade, the number of older adults in New York increased by 26%, while the state population only grew by 3%. In Broome County, the 60+ population is projected to increase by almost 10,000 by 2040, with a concurrent net loss among all other age groups.
NORC is not just about allowing older adults to remain in their homes for as long as possible, but to ensure they are healthy, have opportunities to socialize and exercise their minds, have access to essential services, and are provided with every opportunity to thrive.
With the aging of our region, especially our rural communities, we have become positioned to support our older residents and ensure that they can live safe, productive, and healthy lives in their home and community of choice for as long as possible.
Northern Broome CARES was set up in response to these statistics and is dedicated to serving the needs of the Northern Broome Naturally Occurring Retirement Community.
Who is eligible to receive services?
 Any older adult (age 60+) who is a resident of the Towns of Lisle or Triangle, including the Villages of Lisle and Whitney Point, are eligible to receive CARES-related services. Anyone who does not meet this criteria may still be eligible to participate in other programs offered by Rural Health Network.
Available Services Provided
Medical, Mental, and Emotional Support
Shopping Assistance
Day Trips
Health Education
Emergency Call Buttons
Friendly Home Visits
Telephone Calls
Home Repairs
There is no cost to most of our services. Please contact Northern Broome CARES for more information on specific services, events, and availability. 
Binghamton University Decker School of Nursing
Binghamton University Department of Social Work
Broome County Office for Aging
Broome County Department of Public Transportation
Lourdes Memorial Hospital
Whitney Point Central School District
Whitney Point Preschool and Daycare
This project is supported by funding from the New York State Office for the Aging. It's contents are solely the responsibilities of the grantee and do not necessarily represent the official view of the New York State Office for the Aging.